Did you check out all the women's cardigans last week? (See that post
here
.) Now it's the kids turn. Here is a round-up of more great cardigan patterns for kids.
All photos have been used with permission from shop owners.
Just like last time, I have made some of these patterns, but not all.
Some of the links below are affiliate links. They are marked with an asterisk. I get a small commission if you make a purchase through these links. It does not affect the cost to you, but it does help support this blog.
The Peekaboo cardigan is a classic button-up style great for boys and girls. It covers sizes all the way from 3 months to 12 years.
* SALE: Through 9/7, get a $7.95 off patterns when you buy $35+ in fabric at Peekaboo Shop. Code 'laborday15'
2.
Hey June Handmade Greenpoint Cardigan
*
Another classic button-style cardigan, appropriate for both boys and girls. This one has a raglan sleeve. Sizes 12m-12 years.
* SALE: Through 9/7, 30% OFF ALL PATTERNS at Hey June. Use code 'laborday'
3.
Paperback Writer Cardigan from Shwin Designs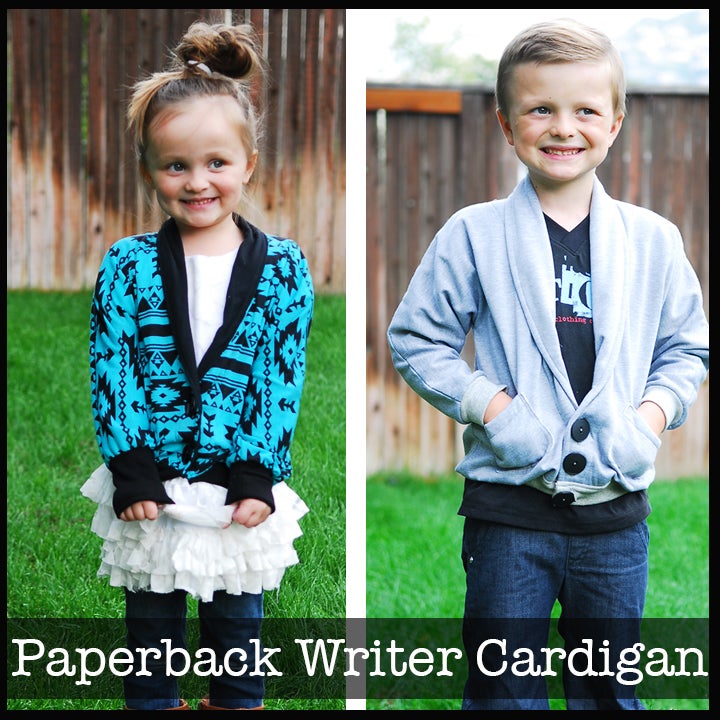 Shwin's Paperback Writer Cardigan is a slightly slouchier style, with a dolman sleeve, roll collar, and optional pockets. Great for boys and girls in sizes 18m - 8 years.
* SALE: This pattern and other fall patterns on sale through 9/7. Price as listed.
4. and 5.
Cool Cardigan
and
Ruffled Cardigan
from Blank Slate Patterns
Blank Slate Patterns has two adorable cardigan patterns. The Cool Cardigan is a classic, unisex cardigan with rounded patch pockets and set-in sleeves.
The Ruffled Cardigan has cute ruffles around the edges, a tie sash, and is fully reversible.
Both cardigan come in sizes 18m - 8.
6.
Girls Four Seasons Cardigan from EYMM
*
* FLASH SALE: 9/7 only, The women's and girl's four seasons cardigans are marked down to $2! Markdown already taken.
7, 8, and 9.
Grandpa Cardigan
*,
Draped Cardigan
*,
Reversible Wrap Cardigan
* from Brindille and Twigg.
Brindille and Twigg is known for their adorable patterns for babies and toddlers, and they offer two cardigan patterns for the little ones.
The Grandpa Cardigan is a new release and features buttons up the front and a shawl collar.
The Draped Cardigan, it can be made with or without sleeves. Also includes a fabric belt.
The Reversible Wrap Cardigan is, of course, totally reversible and fastens with snaps.
All three patterns are offered in size preemie - 6T
* SALE: Grandpa cardigan is on sale for $5 for a limited time.
10.
Swoon Scarf Neck Cardigan for Girls
- FREE!
Here is one that is FREE! Drapey, scarf neck cardigan includes sizes 3/4, 5/6, 7/8, and 9/10.
11.
Slouchy Cardigan from Heidi and Finn
The Heidi and Finn Cardigan is slouchy, with a curved front and cuffed sleeves. It comes is sizes 12m - 12y.
12.
Aster Cardigan from Willow and Co
The Aster Cardigan is a cute little cardigan with girlish touches like a peter pan collar and 3/4 sleeves. Sizes 18mo - 12 years.
13.
Cardigan add-on to Hoodsie Pattern from Stitch Upon a Time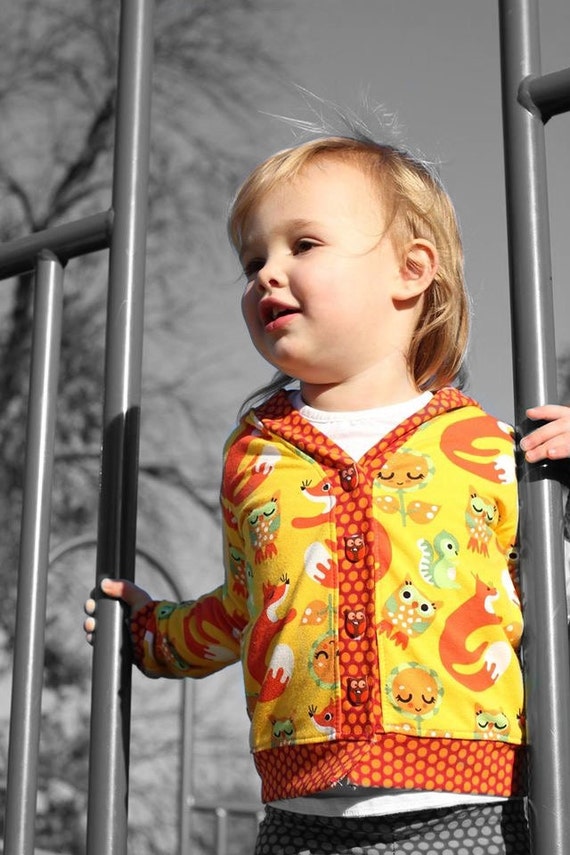 This pattern from Stitch Upon a Time is strictly an add-on and is meant for use only with the Hoodsie pattern, which is purchased separately. But, with these patterns, you can make the Bodysuit Cardigan and the Hooded Cardigan. Sizes preemie - 36 months.
*SALE: 25% off entire site, through 9/7. Code LABORDAY
14.
Adeline Cardigan from Foo Foo Threads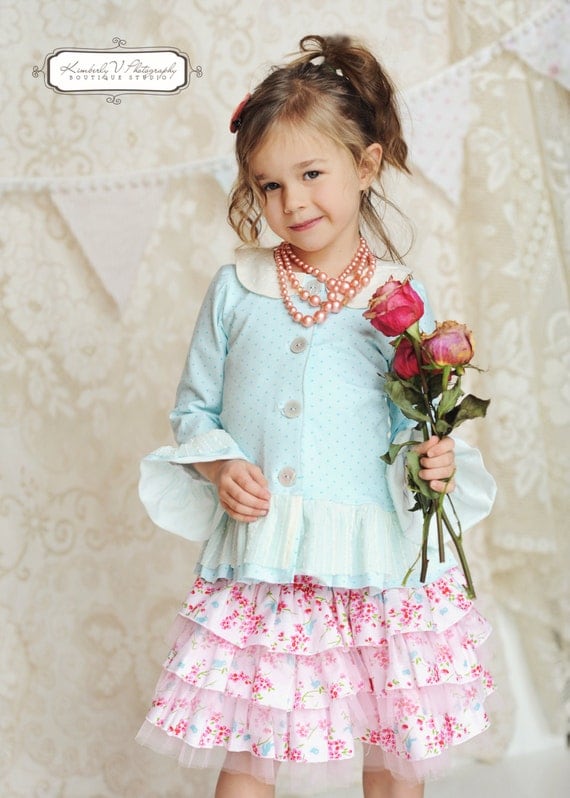 Full of ruffles and girly touches, the Adeline Cardigan is lined, has asymmetrical ruffles at the sleeve and a peter pan collar. Sizes 3-6 mo - 10y.
*SALE: 50% OFF any order of $15 or more. Code LABORDAY
15.
Flyaway Ruffled Cardigan by Dandelions and Dungarees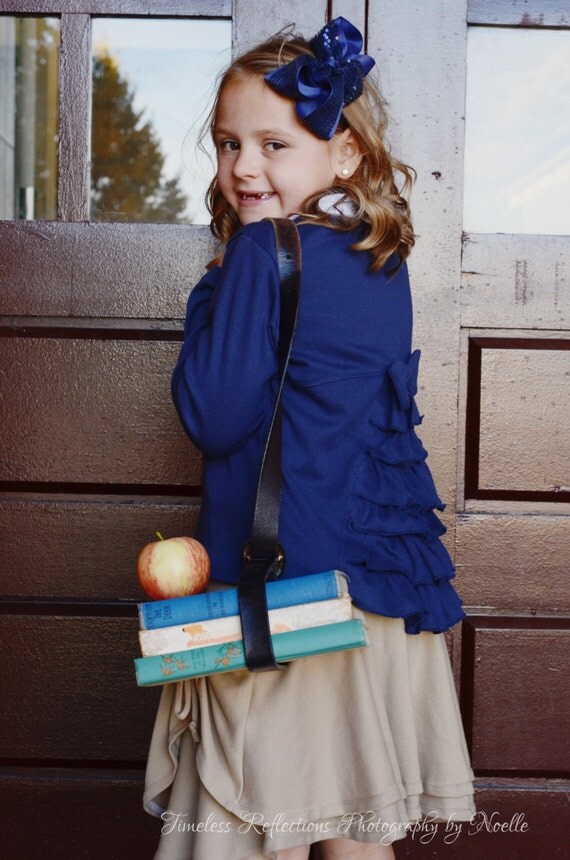 Another fun cardigan, the Flyaway Ruffled Cardigan has cascading ruffles in the back and fastens with a button loop closure in the front. Sizes 2-7 and 8-16.
16.
Library Cardi from Little Lizard King
Little Lizard King just released their new version of the cardigan, the Library Cardi. This cardigan has a relaxed fit, large pockets, and knit binding. Sizes 12 mo - 14.