Are you ready to start sewing cardigans yet? Here are some PDFpatterns to get you started. Check out these 13 patterns for women and 1 for men. There are cardigans available in every size from XXS to 5X. Find one you love!
(Some of the links below are affiliate links. They are marked with an asterisk. If you purchase a pattern through these links, I may receive a small commission, but it will not affect the cost to you. Thank you for your support of this blog.)
1.
Peekaboo Cambridge Cardigan
*
The Cambridge Cardigan is a classic style women's cardigan with a v-neck and a button front. Comes in sizes XXS-XXXL (00-24)
Photo by Straight Stitch Designs
2. Laurelhurst Cardigan from Straight Stitch Designs*
The Laurelhurst Cardigan is an easy sew, with an open, draped front and three sleeve lengths. Also inlcudes a option for a front button. Comes is sizes 0-24
3.
Julia Cardigan from Mouse House Creations
The Julia Cardigan is a fast and easy sew, with a curved open front and three sleeve lengths. Comes is sizes XS-3XL (0-26)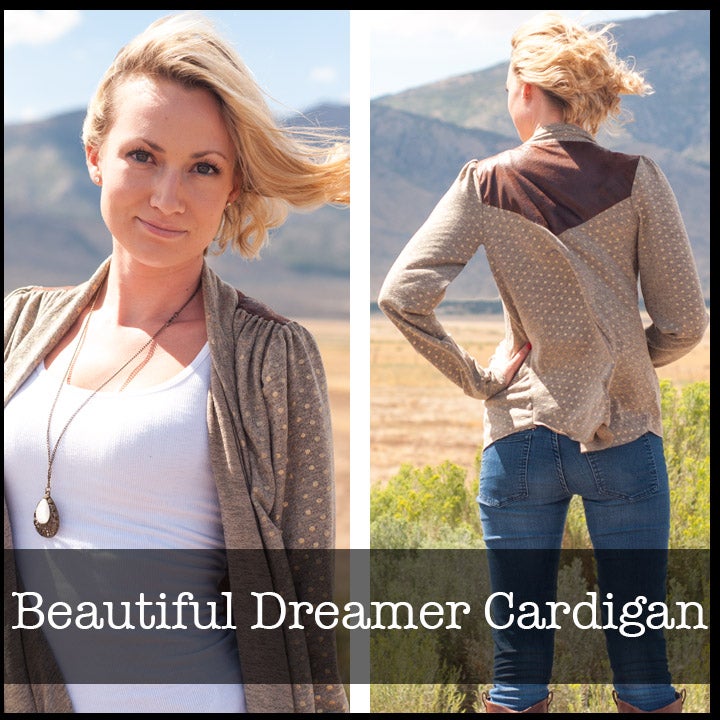 photo courtesy of Shwin Designs
4.
Beautiful Dreamer Cardigan from Shwin Designs
The Beautiful Dreamer is an open-front cardigan with gathers at the shoulder and a contrast back panel. Sizes XXS - XL
Photo from EYMM
5.
Four Seasons Cardigan from EYMM
*
The Four Seasons Cardigan is an open-front drape cardigan. The pattern provides lots of options including 2 length options, 5 sleeve options, and a hood option, making it great for all four seasons. Sizes XS-5X
6 and 7 .
Jenna Cardi
and
Sophie Cardi from Muse Patterns
Photo from Muse Patterns
Photo from Muse Patterns
The Jenna Cardi is a fitted, button-up cardigan with a round neck, two length options, three sleeve options, and optional shoulder details. Sized for 32"- 48" bust.
The Sophie Cardi is fitted style with raglan sleeves, three neckline options, two pocket options, and zip- or button-front options. Sized for 30"- 48" bust.
Photo courtesy of SBCC


8.
Cabernet Cardigan from SBCC Patterns
The Cabernet Cardigan is a classic cardigan with a button front and patch pockets. Pattern can be made with "relaxed" or "slim" options and different length options. SBCC patterns are designed for petite proportions and pattern comes is sizes XXS-L or XL-3X
9.
Swoon Scarf Neck Cardigan
- FREE!
This scarf-neck cardigan pattern is the best price you will find - free! It's an open-front, drape cardgan with princess seams and half or full sleeves. Sizes S-XXL
10.
Carefree Cardigan from Patterns for Pirates
The Carefree Cardigan is an open, drape front cardigan with three sleeve options and several options for finishing the edges - traditional hem, hem band, neck band, or fully banded edges. Also includes self-fabric belt. Sizes XXS-3X
11.
Meridian Cardigan by Imagine Gnats
The Meridian is an easy fitting and completely reversible cardigan with raglan sleeves and wrap front panels. Sizes 2-20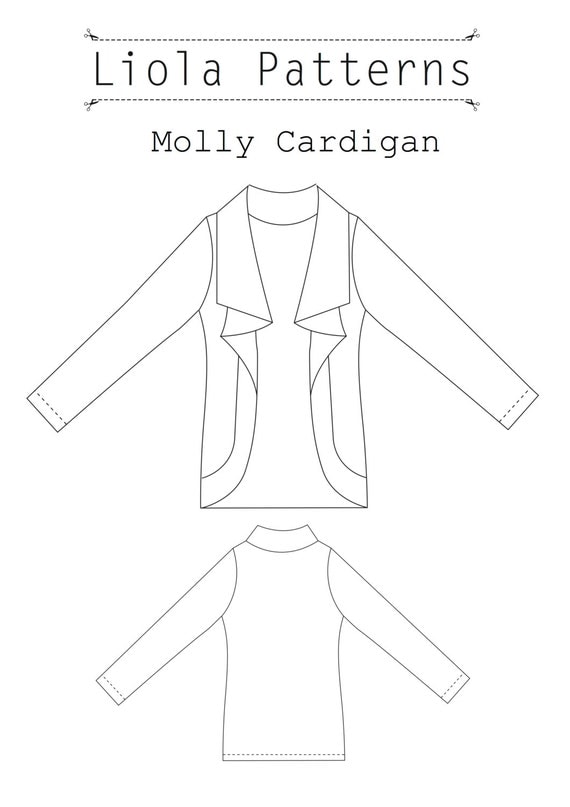 12.
Molly Cardigan from Liola Designs
The Molly Cardigan is an easy open-front cardigan with pretty folds at the front neck. Sizes XS- XL.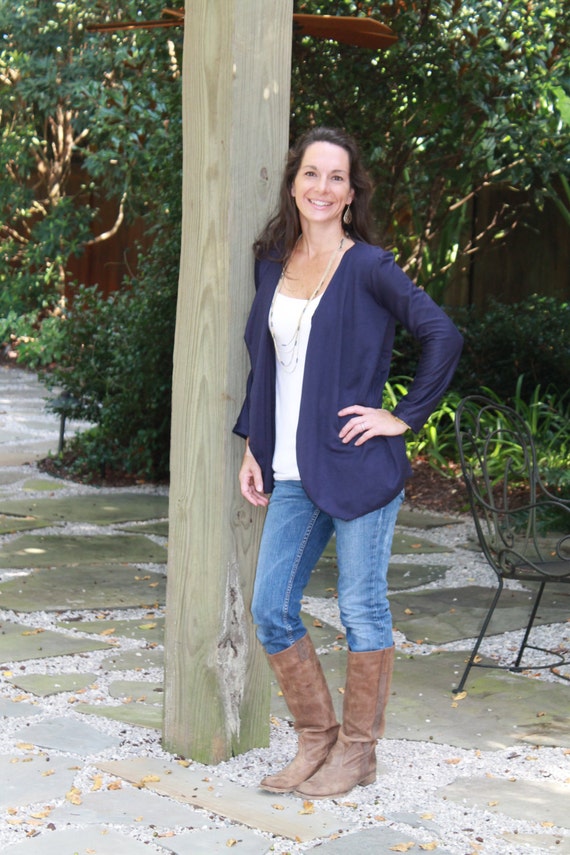 Photo from Seamingly Smitten
13.
Draped Cardigan from Seamingly Smitten
The Draped Cardigan pattern is an open-front style and features three hem lengths, short or long sleeves, and even a ruffle-trim option. Includes sizes XS- XXL (0-22)
Men can look quite stylish in cardigans, too. Unfortunately, there are not nearly as many patterns out there for men, but there are a few good ones. Here is one cardigan pattern I like for men.