In honor of Mother's Day, today's post is a Mommy and Me look for the EYMM blog tour.
(*This post may contain affiliate links, which are marked with an asterisk. I may get a small commission if you make a purchase using one of these links. Thank you for your support of this blog.)
I don't always go in for the Mommy and Me matchy-matchy, but even I have to admit, it can be fun sometimes. And my little girl enjoys it. When both of our skirts are this cute and comfy, why not? Bonus - I got both skirts out of a two yard cut of fabric, which means less fabric waste and less money.
Seriously, I need to make lots of these skirts for both of us. They are so comfy and flattering. They're casual enough to wear everyday, but cute enough to wear out. The half circle skirt is the perfect amount of fullness for an everyday skirt. Plus, these sew up really quickly.
I love that the pattern includes such a wide size range (Newborn- 18y + doll sizes in the kids pattern, XS-5X in women's). The women's pattern also includes a maternity cut line and both women's and kids include a longer cutting line for the skirt back for more back coverage. The pattern even includes pockets!
I didn't get any good pictures of it, but I used the
Jocelyn Leggings
* pattern to attach a pair of shorts with her skirt for extra coverage in case of any un-lady-like moments, you know? (By the way, next time, I am totally attaching shorts to my skirt, too.)
And when your little model gets bored of standing still to take pictures, sometimes you have to run around a little. Good thing this skirt is so comfy and easy to move in.
Like what you see? The patterns is available here:
Women's and Girls Capsule Skirt Bundle*
Women's Capsule Skirt*
Girl's (and doll) Capsule Skirt*
Let's be friends! Would you like to keep up with what's going on with me and the blog? Find me on
Facebook
,
Instagram
, and
Pinterest
.
You can also follow me on
Bloglovin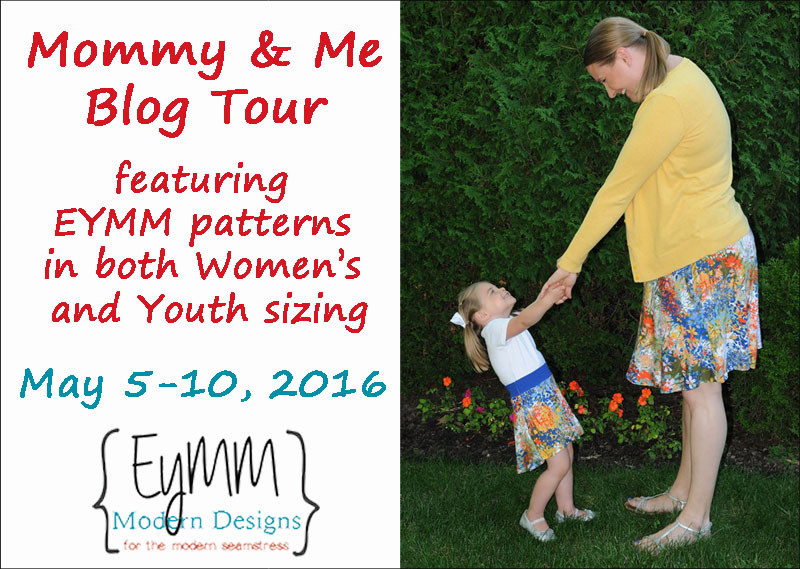 Make sure to check out all the stops on the EYMM Mommy & Me Blog Tour! (Note: the direct links below won't work until their scheduled day, but feel free to click through and check out their blogs any time!)
May 6
May 7
May 8
May 9
During the tour, all Mommy & Me Bundles are on sale! Use coupon code MOMMYANDME2016 on the
EYMM site
* to save 25% on any
Women and Youth Size Pattern Bundles
* until May 10 at 11:59pm PST (note: build your own bundles are excluded from this sale).